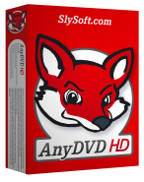 AnyDVD HD is the only viable way to copy Blu-ray movies, which are loaded with copy protection, keeping you from backing-up movies to another DVD or hard drive. AnyDVD HD bypasses that copy protection, freeing the movies you own.
AnyDVD HD has quickly become an essential piece of software for the media center and HTPC crowd, especially if you are interested in watching high definition movies on your computer. AnyDVD HD works in the background to automatically remove the copy protection of a HD movie (i.e.Blu-ray or HD-DVD) as soon as it's inserted into the drive, allowing you then to backup (also called ripping) the movie using AnyDVD's backup tool.
My goal is to save all of my HD movies on a hard drive and access them through Windows Media Center using a plugin called Media Browser. AnyDVD HD is a "must have" piece of software for me to organize the movies I own in this manner.
AnyDVD HD Free Trial
AnyDVD HD does have a trial version that is functionally. No credit cards or any other annoying gimmicks are required. It is the perfect way to test out the software yourself. Download the file from slysoft here.
AnyDVD HD Features
• Removes encryption (AACS) from Blu-ray Discs.
• Removes BD+ copy protection from Blu-ray Discs.
• Removes region codes from Blu-ray Discs.
• Watch movies over digital display connection, without HDCP-compliant graphics card and without a HDCP-compliant display.
• Rip movie as an ISO image
• Allows you to remove or skip Studio Logos and warning messages
• Store your movies on a hard drive
Why You Should Use It
To watch Blu-ray movies without AnyDVD HD, your computer monitor or TV needs to support High Definition Content Protection (HDCP), which my monitor does not (which initially lead me to using AnyDVD HD). AnyDVD HD, as mentioned above, helps you store HD movies on a hard drive. It also may help you watch movies from a Blu-ray disc when the content protection acts up, which has been known to occur with Blu-ray drives on computers.
The real advantage of AnyDVD HD, however, is that it is constantly updated to address changes in digital protection schemes. In many ways, AnyDVD is more of a service than a piece of software. Movie studios are constantly adding new content protection and AnyDVD matches them step for step. By purchasing AnyDVD HD you are provided with free upgrades for the life of the product to deal with these changes in protection schemes.
Cost Information
I would say the main issue with AnyDVD HD is the price, which is 79 Euros, or approximately $100. I feel the product is worth the cost, albeit expensive. However, if you think the price is too steep, Slysoft has frequent sales which I will post here when they occur. I have been tracking AnyDVD HD promotions and have noticed that once a month Slysoft typically has a 20% off sale, usually at the end of the month. One important thing to keep in mind is that you will not have to pay for additional versions of AnyDVD HD, which is constantly updated.