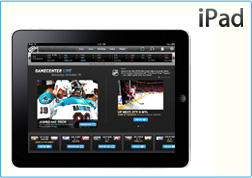 The NHL has become a real trend setter for watching sports online.  Through NHL GameCenter Live you can watch up to 40 games a week in HD.  Pretty impressive.   GameCenter ia available on a lot of platforms including Boxee, PS3, and Roku.  Today the NHL announced one more way to catch a game: the iPad.
The NHL on Wednesday officially announced the availability NHL GameCenter Live for the iPad. The service is available through Apple iTunes, and existing NHL GameCenter Live broadband subscribers can access the application on the iPad at no additional charge by logging in with their broadband credentials.

Fans already using NHL GameCenter or NHL GameCenter Premium can access an in-app upgrade to NHL GameCenterLive, and those who already have purchased NHL GameCenter Premium will pay a discounted price.
GameCenter LIve has two drawbacks. First of all, you can not watch games broadcast in your area.  No Capitals game for me since I live in the DC area.  Second, it is expensive, costing around $20 a month.  Of course if you are a big hockey fan living outside the city of the team your are rooting for, GameCenter might be right for you.