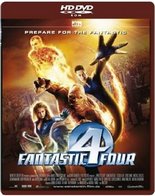 The format war for next generation DVDs has been going on for some time. Each major studio has picked a side, with many only releasing movies on one format. Take for instant Fox's "Fantastic Four: Rise of the Silver Surfer." This top selling movie is only available on Blu-ray causing HD-DVD owners to be left in the cold.
Due to licensing agreements, Blu-ray exclusive movies in North America are being sold as HD-DVDs in other parts of the world, and vice versa. Three online stores offer U.S. customers the ability to buy HD-DVD versions of Blu-ray movies:
Amazon.co.uk – Some movies not yet out in HD-DVD like Harry Potter and Blu-ray only titles in the U.S. like Basic Instinct are available as HD-DVDs.
XploitedCinema.com – The first Fantastic 4 movie is available in HD-DVD format for a slight premium of $35.95.
The Wall Street Journal offers this explanation for this odd distribution practice:
The loophole lies in distribution. Studios often farm out DVD sales in other countries to a patchwork of companies with expertise in those markets. Those partner companies sometimes have arrangements to use a high-definition format different from that of the U.S. studio.
If you are looking for that one elusive movie in either HD-DVD or Blu-ray format not available in the U.S., it is worth trying one of the sites listed above.